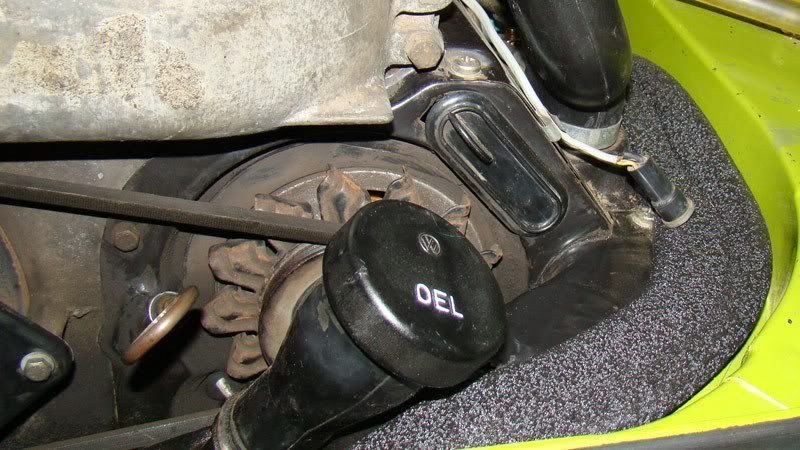 It is time to change the oil before winter gets here. I've been changing the oil in my 1978 VW Campmobile every six months, or about 1,500-2000 miles. According to the manual, the oil should be changed every 7,500 miles, but I don't drive that much each year. I am trying to be very liberal with the oil changes to keep engine wear to a minimum. I would like to get as many miles as I can with this original Volkswagen 2.0L Type4 engine.
Tools and Supplies I Use:
Castrol GTX 20W-50 Motor Oil
Mann/Mahle Oil Filter (021115351A)
Washer For Oil Drain Plug (N0138492)
Oil Strainer Gasket Set (021198031B)
Gumout Carb + Choke Cleaner (7559)
Craftsman Torque Wrench ft lbs (44596)
19mm Socket
13mm Socket
Funnel
Drain Pan
In order to heat up the oil before I change it, I like to run a short errand for any last minute parts or beer. This time I drove up the street to Pep Boys for the Castrol 20W-50. Once home, I let the bus rest for a few minutes. From under the engine, the drain plug is removed using a 19mm socket. The oil is then drained into a 15qt change pan so it can be recycled. After draining the oil, I removed the oil filter and oil strainer. The oil filter should be able to be removed by hand. The oil strainer is removed using a 13mm socket and cleaned using Gumout Carb + Choke Cleaner. Another tip from Colin that helped; the strainer cover plate can be cleaned with dish soap, to reduce the chance of leaking oil.
After the oil has sufficiently drained, install the drain plug and new washer, and then tighten with a 19mm socket (16 ft lbs). Install the new oil filter (coat rubber seal with oil) and hand tighten. Install the oil strainer with a new gasket set, and then tighten with a 13mm socket (9 ft lbs). Do not over tighten the oil strainer bolt.
I use Castrol GTX 20W-50 motor oil. I tried synthetic for a while, but learned it wasn't worth the extra cost. Instead, I just change the motor oil on a regular basis. Remove the oil filler cap. Using a funnel, fill the bus with 3.7 quarts (
with
an oil filter change) or 3.2 quarts (
without
an oil filter change). Replace the oil filler cap and clean up any oil spills. I will wait a while and then check the oil level. If it looks good, I'll let the engine run for a bit and then I'll check the level again. If there aren't any leaks, it is time to take the bus out.
Odometer:
144620