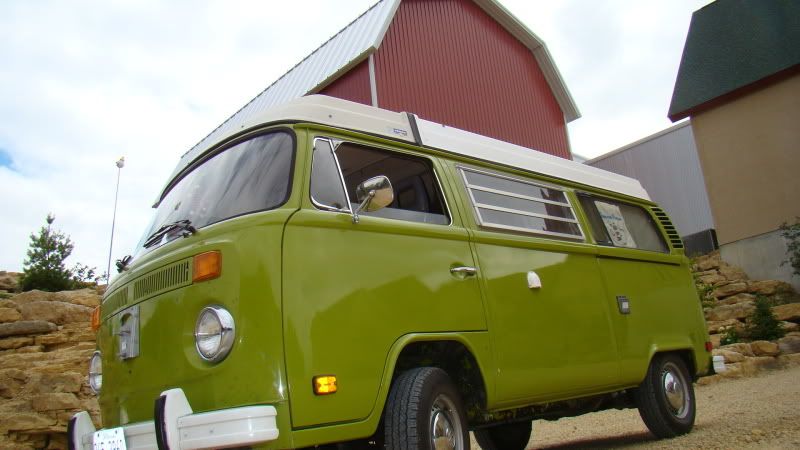 Yesterday my wife and I drove up to the
New Glarus Brewing Company
in Wisconsin. It's was a nice, partly sunny, 70 degree day. It turned out to be perfect driving weather for the 100-mile trip up there. The brewery is in a small town, known as Little Switzerland, just southwest of Madison.

Shortly after we left, I noticed my gas gauge showed I was running on fumes. I freaked out thinking I was about to run out of gas, but then remembered that should still have a half a tank left. The needle was so far past empty that I realized it wasn't working. Time to fill the tank and track the mileage (thanks Kate).


We stopped at a gas station in Lake Geneva (WI) and noticed another Westy parked next door at a skateboard shop.

I love driving though the hills and back highways of Wisconsin. It's especially pretty during the fall, while the leaves are changing, but spring and summer drives are nice too. It took about two hours or so to make the trip out there. The brewery sat on top of a hill, overlooking the farms and highway near by.


We started with samples of a few New Glarus brews. They seem to prefer wheat beers, but I think my favorite was the Coffee Stout. Although I don't typically like fruity beers, I enjoyed their Belgian Red and we picked up a couple bottles to take home. Before leaving, I drove the bus around to the side for a couple picture. We were then off to spend a little time at a couple of the local pubs. I'm glad we came out during the week, because I have the feeling the town is full of tourists on the weekends.


During the trip, what I thought was a yellow VW caught my eye. I stopped by on the way home, but it turned out to be an old Renault (a couple of them actually). They were parked on a lot, along with what could be considered a pile of junk or a treasure cove of priceless antiquities. My wife and I argued that point on the way home. I plan to spend a little time at that location the next time I'm in the area.



This turned out to be a relaxing, enjoyable drive through southeast Wisconsin. Other than the gas gauge, the bus ran flawlessly. It was a great way to spend the day and I'm looking forward to my next trip up there.

Happy birthday Tuck!

Odometer: 143303