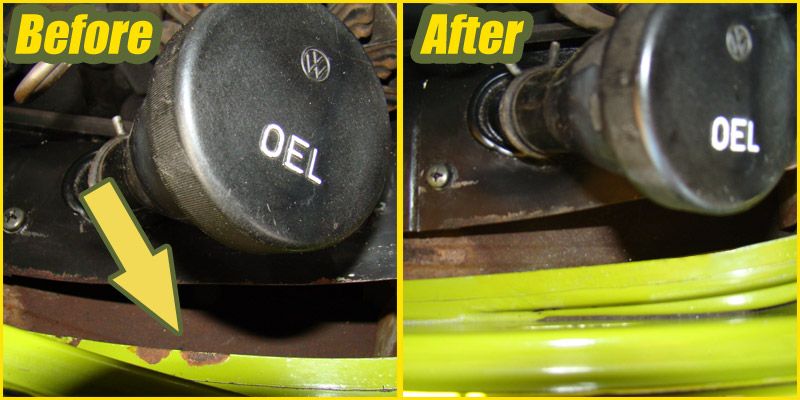 I had a chance to clean up the rust I found under the original engine compartment seal. It's right in front of the oil (OEL) fill. The seal apparently trapped in moisture over the years. I sanded down the rust and surrounding paint until I hit clean steel. It wasn't too bad, but I wanted to make sure I got it all. I then treated the area with
POR-15 Rust Prevention Starter Kit
. The product isn't cheap, but the starter kit allows you to get a large sample of their products for under $20. It's enough to cover 12 square feet. This will provide a tough barrier so moisture cannot get to the steel, even if the paint chips.
After I finished treating it with POR-15, I touched up the areas using Sage Green  (L-63H) from a company called
PaintScratch
. They have a good reputation for matching colors. I've purchased from them before with excellent results, but this last batch was just a little too light. You can't tell in the pictures, but in direct sunlight it's noticeable. I didn't bother to test the color right away, so it was too late to return the paint by the time I realized it. I'll be sure to test it right away the next time.